Fishing Trips
Fly Fishing British Columbia a remote Fly Fishing Trips destination. Other guide outfitters offer the Pitt River Experience. They offer to bring you to this remote valley from your hotel or their establishment. What they do not tell you is that you have an hour or more drive across the city early in the morning then a boat ride up picturesque Pitt Lake, then another 20 minutes up river. To ensure that you get back across the lake before dark your guided day can end early and much of it is spent in transportation.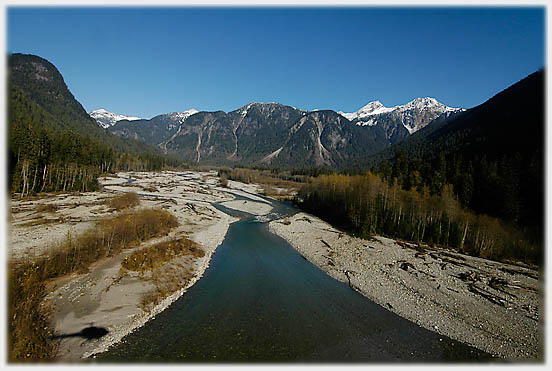 What they cannot offer you is a true wilderness experience at either the Pitt River Lodge, The Fly Fishing Lodge or our Cottages. Located on the banks of the Pitt River our cozy mountain getaways are close to all the best fishing spots. The hospitality and expertise of our guides ensure that your Canadian fly fishing trip in the upper Pitt River valley will be the best they can be.
This valley is wild, remote and isolated. It is a land with people who have a strong sense of independence, strength of character, good humor, and a lot of determination. A land of log cabins and wood smoke and pick-up trucks largely untouched, the Pitt River Valley is like a rare gem. Few people have discovered it, but once discovered, it is rarely forgotten. There are a few areas in the world as beautiful to explore.
Dan Gerak and Lee MacGregor have lived year round in the Pitt River Valley for nearly 30 years and are the only Lodge operators based in the valley. Living here and running a fishing guiding business on the river since 1990, we ARE the experts on fishing in the Vancouver, South Western British Columbia area. We are on the river daily. No one has guided the ever changing Pitt River longer, or knows the river better than us. We are hands on as we want to ensure that you receive the care and attention that you deserve. Our company is small enough to care, and big enough to provide your trip of a life time.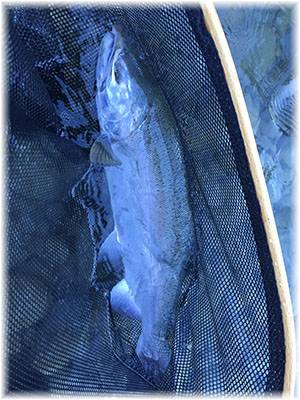 Our clients range from first time fisherman wanting a trip of a lifetime, to large corporate groups and expert world class fishermen. They have all come to see what the fishing world has been talking about.
From your base in either the Pitt River Lodge, The Fly Fishing Lodge and the River View Cottage you can enjoy our hospitality your way.
BC Fly Fishing – Guided Rafting/Walking Fly Fishing Trips
We are proud of our guide crew. All of them have the imperative skills of very keen eyes and great knowledge of our local rivers from how the variety of species in our river behave to the entomology required as the season progresses- these skills are a vital qualification for them to work for us at Fly Fishing British Columbia. Our guides understand that not everyone has the same fishing skills or wants to walk at a fast pace. They are skilled not only at teaching but at tailoring each individual day to suit the many and varied requirements of our guests. We have 100% confidence that a day on the water with any of our guides will be a great fishing experience! Since we are so remote our guides are Swiftwater Rescue trained as well as having their first aid tickets to ensure your safety on the river, which is paramount.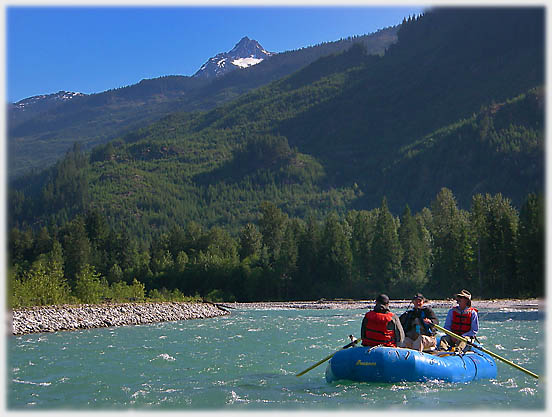 The need for the raft is critical depending on where you are fishing as the water levels change constantly making it hard to access many spots of the river without one. With the raft you will enjoy peacefully drifting the entire length of the river, stopping to walk and wade from both sides of the shore along the way. The Pitt River is a tricky river to run with lots of shallow and tight corners caused by sweepers and trees which fall into the river during high water periods. The Pitt is also known to change its course quite frequently over the course of the season, which is why we choose to use 11'6″-14'6″ inflatable self bailing white water rafts. They are the safest ride on the river and they enable us to stop and fish any piece of water we choose. They also work well giving jet boaters a ride back after they hit a gravel bar or a log jam.
We will work with you to create the perfect trip or event…team building activities with special equipment, sightseeing tours, non fishing rafting and of course our specialty, guided fishing trips in our rafts…we will arrange it all. Every aspect of your trip will be looked after while you enjoy the most unique wilderness imaginable.
Sturgeon Fishing
Perhaps the best-kept secret in the Pacific Northwest is the Pitt River sturgeon fishing is quietly considered among the best anywhere in the world. With more than 200,000 of the prized game fish in the river systems near and around Vancouver, there is plenty of fishing for everyone who wants some.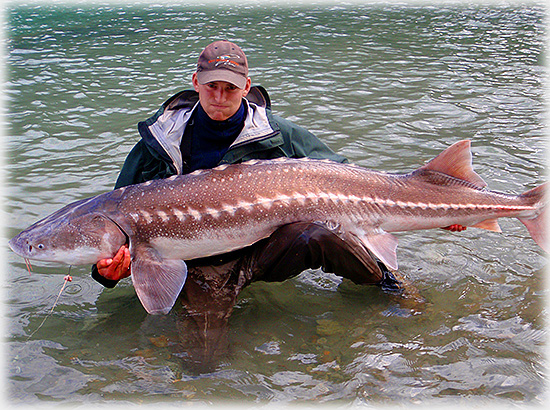 Sturgeon fishing in Vancouver has grown into a world class attraction as tales spread of epic battles with these giant, prehistoric looking fish. Every year anglers make the journey to the Fraser Valley to search for an encounter with these trophy fish, but one river is forgotten and overlooked. And that is how we like it.
Sturgeon fishing near Vancouver on the Pitt River and Pitt Lake is an adventure that anglers never forget.We fish the clear waters where the lower Pitt River flows into the deep lake. This is a far different experience than fishing the muddy, fast flowing, often crowded waters of the Fraser River. The Pitt River is little known to fishermen, but we know it to be the home of some of the biggest sturgeon on the planet.
The British Columbia white sturgeon is North America's largest, most exciting freshwater fish. They reach 12 ft and more in length and can weigh more than 1000 pounds. The fish live for up to 150 years. The sturgeon, as they follow migrating salmon, move up the Fraser and go into the lower Pitt river and Pitt Lake. Studies have shown that the sturgeon caught and tagged in the Pitt do not move much as Pitt lake is incredibly deep and provides excellent winter hibernating holes. The summer brings millions of salmon into the Fraser River to spawn in local tributaries and the upper Pitt River is where many are headed.
Sturgeon rely on these salmon as a major food source and must feed on them to survive the winter months. 
Experienced Professional Staff
The high level of personal attention and the professionalism of our staff will ensure a flawless meeting or retreat…our guides are waiting to assist your group, help the experienced and teach the novice. It won't matter whether they've fished before or not- we will take care of them and guarantee they have a fabulous experience.
We are committed to providing a world class setting which allows our valued guests the unique opportunity to experience this remote river which we call home. Spectacular setting, personalized service, hearty home style meals and comfortable accommodations and great fishing…what more could you want?
Our guests arrive by personal aircraft, float plane, helicopter or lodge boats…whatever your means we can help you arrange it.
Email us at info@flyfishingbritishcolumbia.com to start planning your next fishing adventure today!
We have it all here for you to explore "Your Adventure begins here!